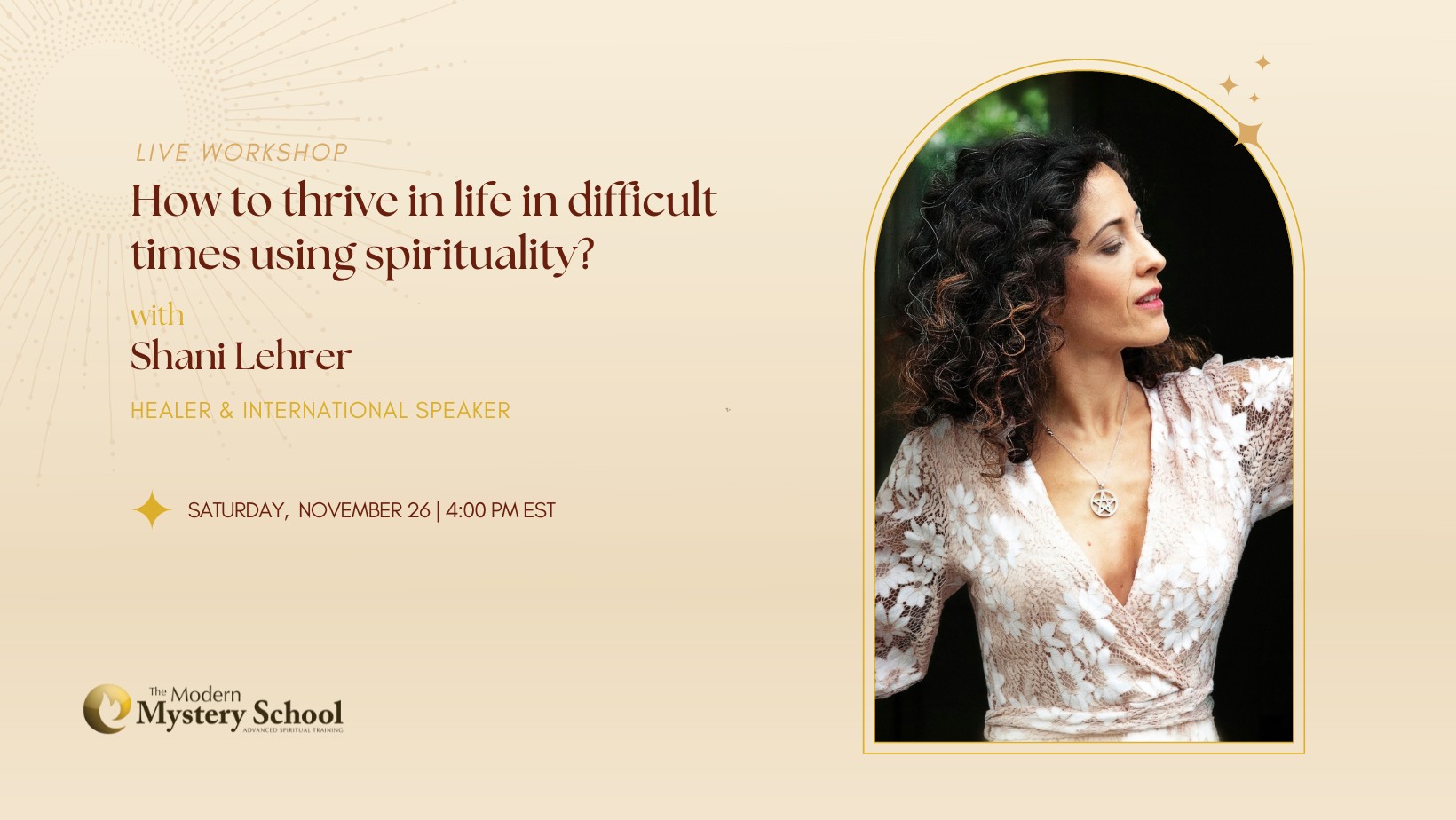 How to thrive in life in difficult times using spirituality?
How to thrive in life in difficult times using spirituality?
Kuidas keerulistel aegadel vaimsuse abil elus läbi lüüa?
📅 26th of November 16:00 EST
📍 Online
ENG
Living in a fast-paced world filled with different challenges and difficult changes, we may easily lose our sense of joy. 😌
How to find joy in the middle of turmoil? How to still thrive through life? How do we hold our energy up, inspire others, and manifest at new levels?
To thrive in life, we have to learn to harness our emotions and channel energy back into a positive light. Shani will share ancient wisdom that helps you thrive in life and face any challenges or changes in life with a smile on your face. 😇
Because the fact is – you can be much more fulfilled and alive than you are now! ✨
Join us to explore ancient wisdom which will help those who are looking for a path to joy, love, happiness and success! 💫
✨Shani Lehrer ✨
Multidimensional Entrepreneur, Senior Guide & Ritual Master in the lineage of King Solomon, Kabbalist, Healer, and International Speaker.
Shani works daily with ancient and modern technologies, all designed to unleash human potential, both in private sessions and groups, with the intent to serve as a conduit and guide for inspiring and catalyzing the uncovering of the inherent creative potential that exists in all of us.
Learn more 👉🏻 https://www.shanilehrer.com
🏷 Tickets available in Fienta 👉🏻 https://bit.ly/thriving-in-life
EST
Elades kiiresti liikuvas maailmas, mis on täis erinevaid väljakutseid ja keerulisi muutusi, võime väga kergesti kaotada õnnetunde.
Kuidas leida rõõm ja õnn keset elu keerdkäike ja segadusi? Kuidas ikkagi läbi elu kasvada ja areneda? Kuidas hoida oma energiat üleval, inspireerida teisi ja avaneda uutel tasanditel?
Elus edu saavutamiseks peame õppima oma emotsioone õigesti kasutama ja suunama energiat tagasi positiivsesse valgusesse. Shani jagab iidseid tarkusi, mis aitavad sul elus edasi kasvada ja naeratus näol vastu astuda mis tahes väljakutsetele või muutustele elus.
Fakt on, et sa saad olla veel palju rohkem täiuslikum ja elus kui sa täna oled.
Liitu meiega, et avastada iidseid tarkusi, mis aitavad kõiki, kes otsivad teed rõõmu, armastuse, õnne ja eduni!
✨Shani Lehrer ✨
Multidimensionaalne ettevõtja, vaimne giid ja rituaalimeister kuningas Saalomoni õpetuste liinis, kabalist, tervendaja ja rahvusvaheline esineja.
Shani töötab igapäevaselt iidsetete ja kaasaegsete tehnikatega, mis on kõik loodud inimpotentsiaali avamiseks nii eraseanssidel kui ka rühmades, eesmärgiga, inspireerida ja käivitada meis kõigis eksisteeriva loomupärase potentsiaali.
Learn more 👉🏻 https://www.shanilehrer.com
🏷 Tickets available in Fienta 👉🏻 https://bit.ly/thriving-in-life